I got up early for my flight departing Montevideo.
Unfortunately, I would have to fly first to Porto Alegre, Brazil, connect to another plane and fly on to São Paulo, Brazil. I knew this day would suck and it fully met with my expectations.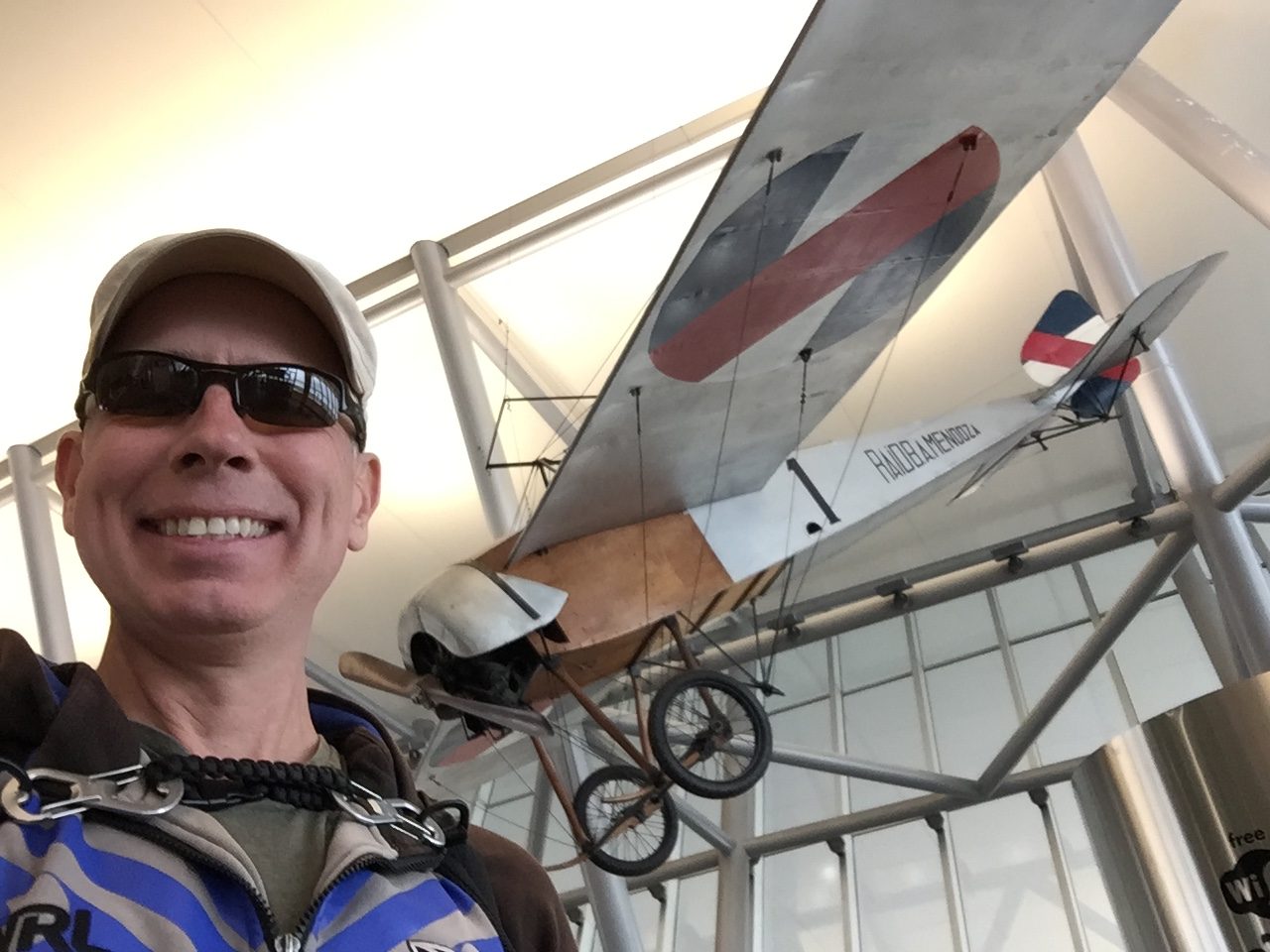 As I was leaving my Airbnb in Montevideo, I realized I had far too many Uruguayan coins. You don't need to travel with coins – get rid of them. I had a huge fist full of shining silver and copper. I shoved them in my pocket thinking I needed to find someone begging for coins. As I walked out of the building, my Uber driver was waiting right in front of me. Immediately, a homeless man approached me asking for coins. I dug in my pocket and pulled out the mass I wanted to get rid of. He couldn't believe I was handing him so much. He screamed, "Me muero!" (I'm dying!) He was very grateful. I don't know how much it was. Maybe ten bucks?
Having a good knowledge of Portuguese was going to be a huge help in my travels today. Sadly, I only know about three words in the language – so, no help at all 🙁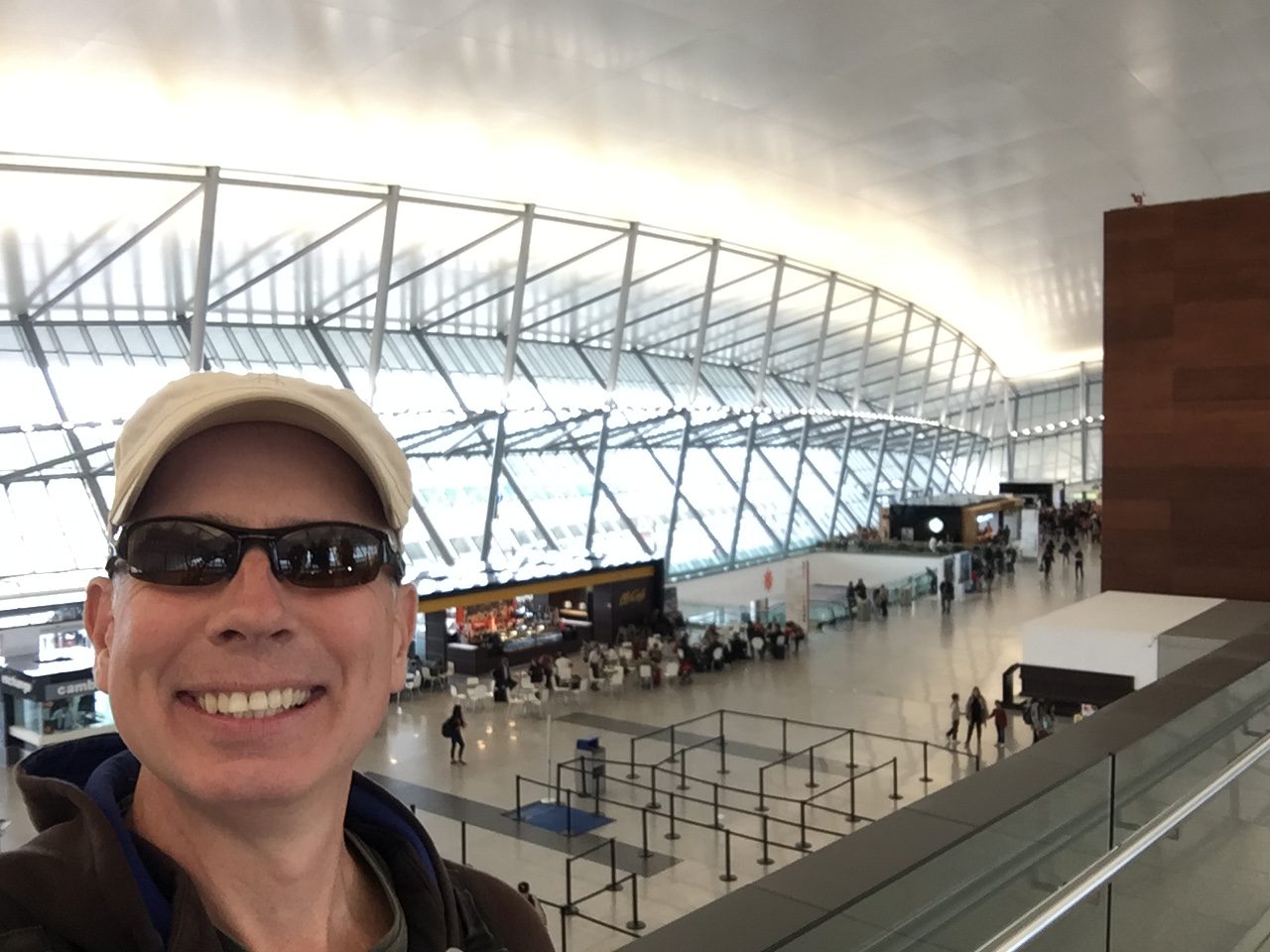 The day started out well. The Montevideo airport has a posh restaurant where you can relax, have a well-prepared, tasty meal and some beer. Pricey – but good. "Patria" restaurant is on the third floor before you go through security. I got to the airport four hours before departure. I planned to eat and relax.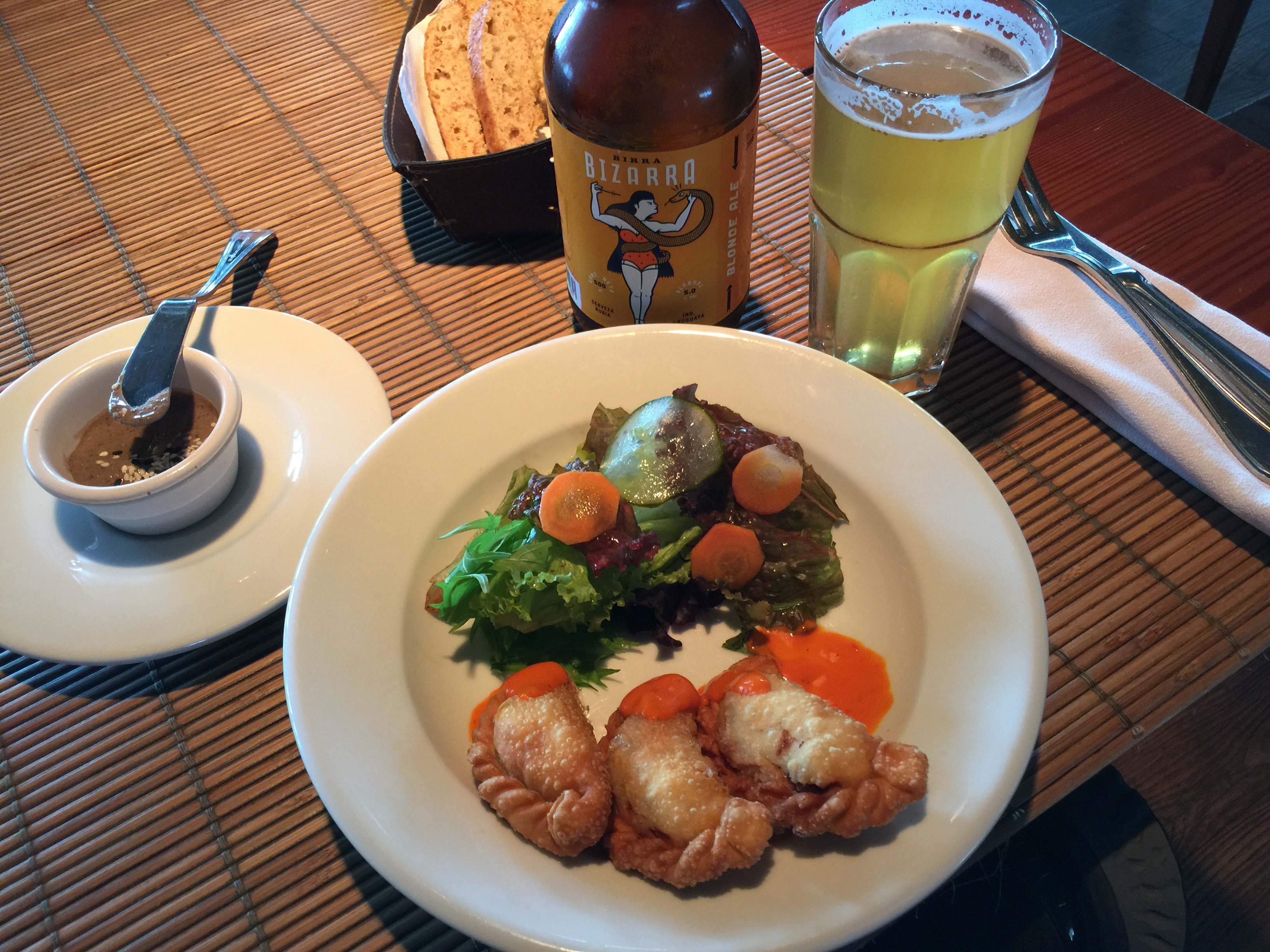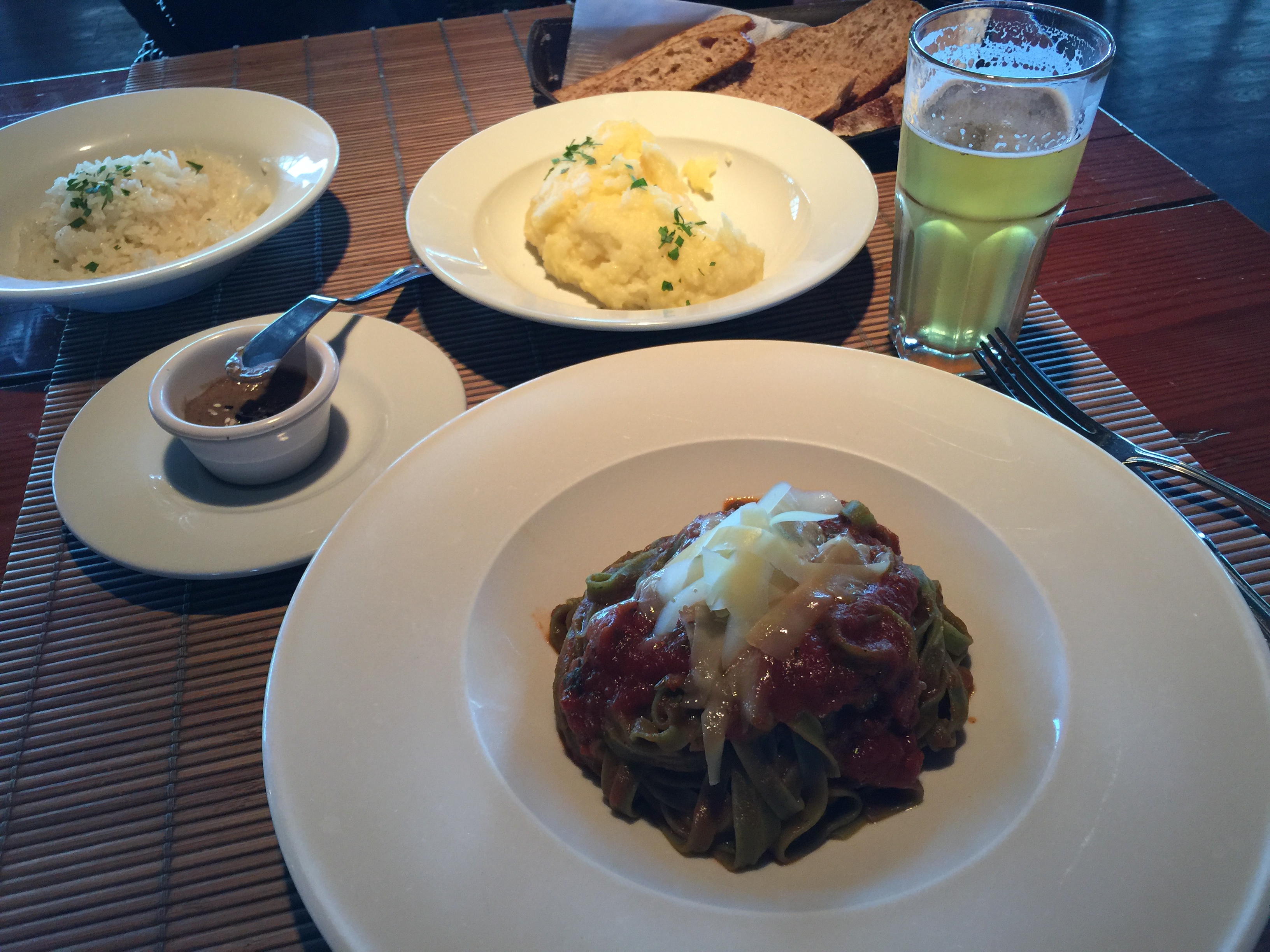 The flight to Porto Alegre was short and easy. On the flight I had filled out a customs form, but nobody ever asked me for it once I landed in Brazil. I only noticed much later I still had it. Come on people! Get it together.
Once I landed in Porto Alegre, it was a little crazy. Absolutely nobody spoke a word of English or Spanish. Even the two guys at the airport information desk only spoke Portuguese. Are you kidding me??? Staff at an information desk at an international airport don't speak any Spanish or any English? That's ridiculous. (That's just my opinion, but it's a good opinion)
I just showed the guys the boarding pass for my next flight. They kind of grimaced, started to say something, and then stopped. They knew I wouldn't understand. So, one guy made a gesture with his finger which indicated I should follow him. We walked all the way to the end of the terminal and stepped outside. He pointed to some buildings that were off in the distance on the opposite side of the parking area. He said quite a bit in Portuguese that I'm sure would have been very helpful, but I didn't understand any of it, and he sent me on my way. Hmmm.
So, I started walking. I exited the airport parking lot. Exited the airport completely and kept walking. I entered an industrial area without sidewalks that was looking dodgy. I thought, "This cannot be right". I kept walking until the dirt path turned to mud and then crossed to the other side of the street to keep my shoes from getting muddy. After another 15 minutes I thought this just could not be the right way. I almost turned back, but didn't. I walked into another parking lot and saw in the distance another terminal building. A very small building. Hmmm.
I walked into the building and it was PACKED with sweaty, humid, Brazilian humanity. Pandemonium reigned. There were a lot of announcements on the loudspeaker system, none of which meant anything to me, people were trying to converse over the announcements, talking loudly on phones, and I could barely make my way through the crowd. I kept looking for something that indicated where my flight might be. A sign pointed "up" to departures, so I went up the stairs. Upstairs it was only airport administration. Dead end. Back down the stairs and keep walking. I found security and went through. It would have been better to have stayed on the other side. After security was another mass of humanity, blaring announcements in Portuguese (not complaining – it's perfectly fine for Brazilians), no where to move, nowhere to sit, it's hot, I'm sweating, and 90 minutes before my flight. Ugh 🙁
A sardine stuck in a departure "lounge".
I suffered through the next hour and a half. Finally, the announcement board showed my flight, the gate number, and it was boarding. Yay!
I got in a long line and when I got to the guy who takes tickets, he said a bunch of stuff to me in Portuguese. Yay! More Portuguese! 🙂
I said with a smile, "English?"
He got a troubled look on his face. He didn't speak much English, but it was good enough. "No here". He pointed, "There".
I was really confused. This gate had my flight number on it. I double-checked the boarding pass and the announcement board. Yep, this should be it. Okay, fine. I walked over and got into another long line of about 30 people. When the line was down to only four people in front of me, people started really getting angry and screaming at each other. Apparently, those four who had waited a long time in this line were being told they also had to go to another line. They were not happy. They were indignant. They wanted to let the ticket-taker know how outraged they were! 🙂
After they got done yelling at each other and decided it was better to get on the correct airplane than to waste time assaulting someone with insults, I stepped up and handed the dude my ticket and passport. I wondered what excitement awaited me.
He looked at me, "Portuguese"?
I said, "No…español?"
He said, "No…English?"
Yes, by the gods, yes! "English – yes!"
His English was amazing. "Okay, just cross the way here and follow the yellow line".
Sweeeeeet!
And we're walking…
A couple of hours later, we landed in Sao Paulo. I've never been on an airplane that flew between skyscrapers on landing, but there's a first for everything. What an amazing landing.
I got off the plane and started looking for the taxi desk that I'd read about before setting off this morning. As I was walking towards the airport exit I noticed signs everywhere advertising Uber. Uber signs on the walls, Uber signs on the airport columns, Uber signs on the floor tiles. There was even a colored line on the ground labeled "Uber This Way" that you were supposed to follow. What the hell is this? I've never seen anything like this before. In all of Latin America Uber has been either in a legally gray area or simply outlawed. Here it was wall art.
Okay, I'm game. I turned on my phone and tried the Uber app. In some countries it works, in others not. Here it seemed to be fine. I scheduled a pickup and the app told me to go to a particular Uber pickup area. I showed some airport guys what my phone was saying and they pointed for me. I walked out to the street and my driver was waiting and ready to take me to Radisson Blu. Sweet!
It was well after sundown, I hadn't eaten since lunch in Uruguay (I don't eat airline food) and I was a bit peckish. I decided to shower before dinner. After showering I was really tired. It was only 8:30 at night and I hadn't eaten, but there was a chocolate on my pillow. I ate it and went to bed. Ten hours later I woke up.
Travel can be hard on you at times.